Judgment is upon us for The Ugliest Gourmet! Let's have a big round of imaginary applause for everyone who bravely cooked, photographed and blogged about all the treats below. This home-cooking event was devised to prove that, despite the visual ostentation that professional cooks strive for, great food doesn't always look so great. So for once, the pressure of beauty is off — and in fact, turned on its head. What will these bloggers have the freedom to cook up with the opposite of great appearance in mind? Let's have a look!
But before we do, a word on how the contest works: In the next four days, ending midnight, Tuesday, November 20th, you may vote for the dish that you feel deserves the title of The Ugliest Gourmet. The dish you vote for should be something you want to eat — figure in 50% for ugliness, and the other 50% for deliciousness. (Take a look at the contestants' blog posts for more details, too.) To vote, simply leave a comment on this blog. Please state somewhere in the first sentence of your comment the name of the dish and blog that you're voting for. I'll tally these up on Wednesday, and whoever receives the most votes/comments wins — and will get to see me cook their dish for my family on Thanksgiving. So, without further ado, here are the entries: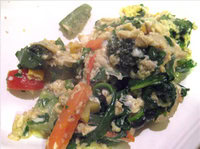 Charissa of Foracious Journeys created this Spinach Parsley Scramble — lots of tasty greens bound with egg. "I realized how ugly this was going to be when the eggs started to turn green from the wilted spinach," she wrote on her blog.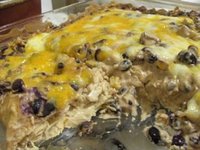 Sarah of Chomping the Big Apple does a strange-looking (but yummy-sounding) twist on a Tex-Mex favorite with these Blueberry-Chipotle Enchiladas.
Mrs. W. is clearly in it to win here with this Kitty Box Cake. She describes its construction as a little similar to that of a trifle, which stands in my book as one of the messiest-looking desserts (when plated, at least).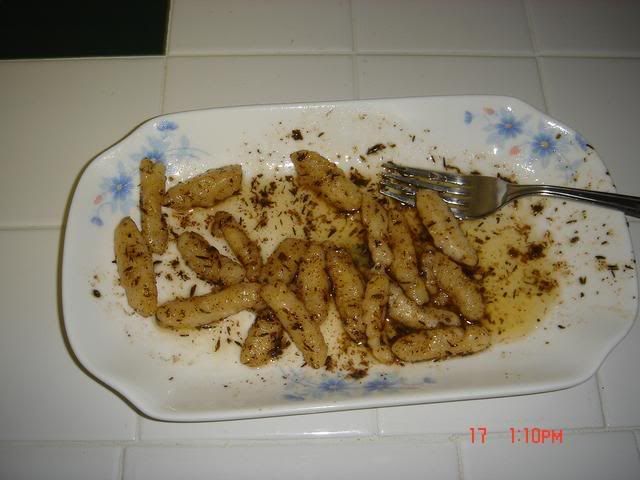 Um… did bug larvae get into Joanna (of And I'm Still Here)'s Gnocci and hatch all over the place or is that really just the gnocci itself? I guess we'll just have to take her word for it.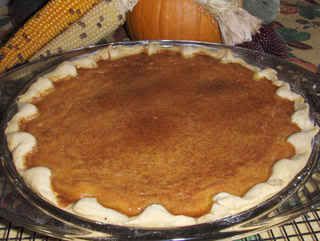 The food Linda (aka: OhioMom) turns out on Cooking in Cleveland makes all home cooks look good. But this carrot pie — Linda, do you have a recipe/post? Sorry I couldn't find it! — is perhaps the least fair of them all.
Most of us have been unlucky enough to have seen what happens when a bachelor cooks. This pork braised in milk by Brooklyn Bachelor Matthew is nothing short of classic (but I'm guessing it tasted amazing).
At last, the eggplant resurfaces! And it's looking slithery as a snail in The Blog that Ate Manhattan's wonderful-sounding Aubergines in Spicy Honey Sauce.
It's nice to discover dishes I've never heard of but that have a long history in other peoples' families. Such is the case with this Corned Beef and Tomato Pie from Jen of Fontas Food. (Hm, maybe there's a reason why it hasn't spread… )
Jerusalem artichokes have never won any root vegetable beauty contests. This fragrant-sounding Jerusalem Artichoke Soup from Zlamushka's Spicy Kitchen can attest to that as well.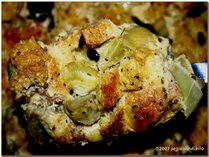 Bee and Jai's creamy, flavorful Savory Bread Pudding makes my mouth water… but definitely has that "What is it?" factor going for it if I didn't already see their post on Jugalbandi. (Check out their "dirty diaper dish" too!)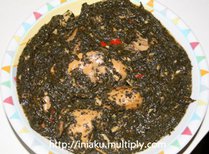 It's true, love looks beyond beauty, as Ayone proves on Food is Love with this Maraq Molokheyia bil Dajaj. Intrigued? So am I.
Krishna's double-dose of tasty frights, Cabbage 'n Moong Dai and Acorn Squash 'n Leek Dip on Cooking From A to Z gets an A for effort — plus you can smush them together on rotis or flatbread to make an even more unattractive pair.
Finally, though it's not a dish so much as what goes on before the cooking, Francois of FX Cuisine showcases an intense photo essay of a traditional Moldavian Pig Slaughter. I'm going to let you click on that last link if you choose to view it for yourselves, but be warned, it's not for the faint of heart. "It's rather hard-core gastronomy so I apologize in advance," Francois wrote in an email. "This is part of the meat-eating diet and to understand traditional recipes, who often call on offal, you need to understand slaughtering," he wrote on FX Cuisine, while admitting that the experience was unpleasant. Agreed on all points.
Again, many thanks to these fearless cooking contenders for sharing their wealth of ugliness. You know the drill — now let the vote-commenting begin!
(Note: I just remembered that I cooked the Parmesan-Pureed Broccoli for this event. You can see the image in the post just below this one, and vote for it here if you wish here, as well.)