sweet dolci spreads at Bella Cucina
Last Tuesday, I was inspired. I don't mean that I had rushed home with a fresh purchase of groceries and a spontaneous, must-make-tonight, dish idea. Or that I was struck with an urge to expound upon any national cuisine, penny-pinching technique, or environmental cause. No: I had just roamed the gourmet, European-style food hall in Grand Central Terminal, and the beauty of it was still sinking in. I was in food shopper's bliss.

If atmosphere is crucial to the restaurant experience, it holds equally true of the shopping experience for the home chef. That, perhaps paired with convenience. Incidentally, at the bottom of the food market hierarchy in New York are those stores called "convenience," or better yet, bodegas. These chalk up a hierarchy of their own, with stock ranging from the basest order of empty calories to ripe, fetching produce and ethnic delicacies. Then there are the supermarkets, which — while large and thus more convenient — are almost always teeming with carts and bodies like a bumper-car ring, and often feature winding, snakelike lines for the cashier that require hand-held signs and several employees.
This is generally not so for many of the ethnic street markets throughout the five boroughs, or the plentiful Farmers' Markets — though they suffer from congestion and other inconveniences in their own unique ways. I hope to elaborate on the character of many different food markets by focusing on them one at a time in this blog. If you have any recommendations, just send them my way. For now though, why don't we start at the tippy top: The mini hub of carefully curated specialty food retailers, the Grand Central Market.
I had perused this market countless times before, having used to work nearby and taking the 4 and 5 trains in and out of Manhattan each day. My eyeballs would grow so limp with longing that I'd buy the occasional really good cheddar at Murray's Cheese, or a fine cut of meat or seafood on a whim, but it was always with cautious frugality. So I was honored to have the opportunity to throw all that to the wind last week, when I was invited to the market's Fall Harvest Tasting Event.
As you'll see scrolling down the photo essay below, I was not the only food blogger who took advantage of the event. But was I "eating out," as a few of them asked? Well, even though there were plates full of prepared snacks, Grand Central Market is still just that — a collection of butchers, bakers, fishmongers, chocolatiers, etc. It's just elevated to a level of refinement that makes it difficult to recognize it as such at times.

we all got a lesson in classic German canapes from Koglin German Hams

my favorite one being these Specialitäten aus Deutschland: pumpernickel squares spread with velvety, fresh ham fat mixed with hunks of ham hocks

I am so very pro-antipasti after sampling this tray from Ceriello Fine Foods

just a giant roll of Italian sausage behind the counter of Ceriello Fine Foods

I would be happy working around Li-Lac Chocolates, too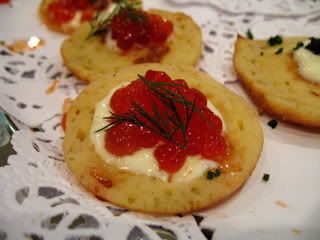 … wait, please — don't speak. You're ruining the memory for me (of the Alaskan salmon roe with crème fraiche on mini crepes at Wild Edibles)

flashy-lookin' fishies, also at Wild Edibles

Ann of A Chicken in Every Granny Cart, not toting a granny cart, but her boyfriend Isaac

over at Murray's Cheese, Jon Wright, president of the Vermont Cheese Council, was on duty to answer questions about "Vermont's finest" other dairy product

Molly of Slow Cooked and Luisa, The Wednesday Chef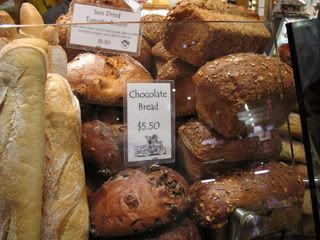 Zaro's Bread Basket handed out free bags of bread to anyone who cared to carry them home

while their tarts and pastries were cut to bite-sized morsels

Greenwich Produce: a palette of color for the palate

the Feisty Foodie Yvo (here with a friend) has plenty of commentary on the night's offerings at her blog as well

Dishes at Home showed off their prepared-food prowess with a sampling of crispy chicken skewers, goat cheese quiche and black bean cakes

Grande Harvest Wines kept the Pinot Grigio and Merlot flowing

one of Bella Cucina's several offerings, these aromatic spice blends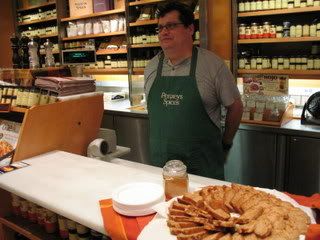 and in a true measure of hospitality, Penzey's Spices (yes, just a spice retailer), baked these wickedly flavorful "snickerdoodle" loaf slices
I failed to photograph (well, at least) the fine offerings provided by Corrado Bread & Pastry, Oren's Daily Roast and Pescatore Seafood Company, but you can be sure that they were fabulous. I am so grateful to everyone at the Grand Central Market to have been treated to this fancy free-for-all. It not only filled my tastebuds with resounding glee, but reminded me of the importance of the market. Now, if only every shopping trip were also free.