It used to be that when a potluck presented itself to me, I would default to one of a number of tried-and-true party favorites. Now that pool has run rather dry. But no fear — a new pasta crank is here.

It's the season of squashing warmly spiced winter squash into everything, and savory dumplings like ravioli are no exception to this rule. That is, unless you are averse to the idea as my boyfriend was. Why mess with a good thing, his philosophy being (on cheese). I couldn't counter this argument and rightly say why myself… I'd never tried making ravioli in the first place. Rarely had I even eaten the dish. So it was traditional ricotta and parmesan filling this time only, with a spray of sea salt and black pepper to boot.

patches of soon-to-be ravioli cores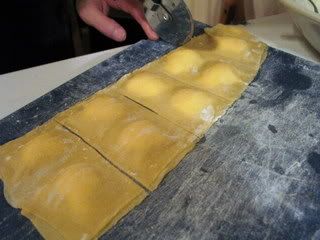 the default (yet quite good!) ravioli cutter: a pizza wheel
Summer's quick bring-along salads and salsas have given way to autumn's heartier party fare. While this in essence doesn't need to spell more complicated or time-consuming, in this case it very much did. There are such things as ravioli molds that could have saved time, but then the outcome wouldn't be nearly so rustic-looking. Or haphazard, depending on who's looking. Like a good vegetarian-conscious potluck participant, I dotted the finished dish only with soft, buttery hunks of roasted garlic cloves and a shower of fresh herbs — oregano, sage and flat-leaf parsley. (You know winter is near when garlic goes into the oven for a slow roast.)
While simply drenching this in olive oil might do for a quick finish, a more flavorful version came to mind. Aioli, meaning literally, "garlic and oil," is never too many steps away. An emulsion similar to mayonnaise and traditionally flavored with garlic, lemon, salt and sometimes mustard, I thought it would make a thicker, saucier alternative. Yet not wanting to overpower the cheese ravioli with garlic, I used only roasted garlic in this blend. I also took Mario Batali's advice in this Food Network recipe for aioli, which calls for using only 2/3 extra-virgin olive oil and 1/3 regular olive oil. The flavor of the extra-virgin would actually overpower, it purports, and using plain olive oil will save you money besides. Well, I took this advice liberally and used only 2/3 parts of my expensive Tuscan extra-virgin olive oil and 1/3 (or maybe even half?) of canola oil, since I don't have just olive oil. As promised, the aioli was still sharply olivey. I can still taste it now just thinking about it. Thanks for saving me a buck, chef!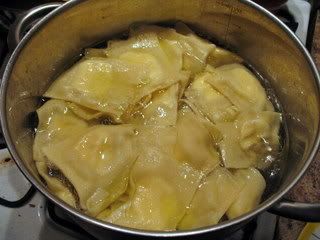 what it boils down to
And by all means, if you don't wish to powder your apartment with flour or hang pastry sheets separate from one another on drying racks created with chopsticks, go ahead and buy a package of pre-made ravioli. But I warn you, it won't be nearly as fresh and cheesy (nor as un-uniform). Either way, do try the roasted garlic aioli sometime. It works great as a savory yet refreshing sauce for grilled meats, vegetables and poached eggs, too.
Cheese Ravioli with Roasted Garlic Aioli and Herbs
(makes 6 servings)
for the dough:
2 cups all-purpose flour
4 eggs
for the filling:
15 oz. whole milk ricotta
1/2 cup grated parmesan
1 egg
1/2 teaspoon salt
freshly ground black pepper
pinch of nutmeg (optional)
for the aioli:
4-5 roasted garlic cloves
1 egg yolk
1 tablespoon fresh lemon juice
1/2 teaspoon Dijon mustard
1/2 teaspoon salt
2/3 cup extra-virgin olive oil
1/3 cup olive oil (or vegetable or canola oil)
for the finishing touches:
4-5 tablespoons each of chopped flat-leaf parsley, sage, fresh oregano and/or thyme
2 heads of roasted garlic minus the 4-5 cloves used in the aioli above
a few turns of freshly ground black pepper
Roast the garlic: Preheat oven to 350 degrees. Slice off the tops of two heads of garlic just enough so that the flesh of the cloves are exposed. Sprinkle with salt and douse with about a teaspoon of olive oil each. Wrap them with foil completely, and bake for about 1 hour, until cloves are soft and caramel-colored. Once cooled, remove cloves from the papery skins.
Make pasta dough for six: Pour the flour into a large bowl. Create a well in the center, and add 4 eggs. Mix the eggs by stirring with your hands in a circular motion. Gradually incorporate flour from the edges into the eggs, until all has been incorporated. If necessary, add a tablespoon of water to the mixture (and preferably no more). Alternately, if dough is too sticky, add a little more flour. Turn dough onto a well-floured surface and knead for 6-8 minutes. Form into a ball and let dough rest for 15 minutes, covered in plastic wrap. Run through a pasta crank, flouring before each run, until it has completed the thinnest or second-to-thinnest setting.
In a large bowl, stir to combine all the ingredients in the filling. Line up the sheets of dough on a well-floured surface. Depending on what size you prefer to make your ravioli, drop spoonfuls of filling about 2 inches apart from one another on a pasta sheet. Find another sheet that's about the same size as the bottom sheet (easier said than done!). This will be the top of the ravioli. Dip your finger into water and draw a grid around the squares of soon-to-be ravioli, and along the edges of the entire sheet. Place the top sheet on top, and press along the grids. Cut ravioli with a knife or pizza wheel.
Bring a large pot of water to boil. Drizzle in a little oil (this will help keep the ravioli from sticking together as much). Working in about three even batches, boil pasta for 2-3 minutes each, then remove with a slotted spoon to a colander.
Make the aioli: In a blender or food processor, pulse the egg yolk with the roasted (and cooled!) garlic cloves. Add a pinch of salt, the Dijon mustard and the lemon juice and pulse a few more seconds, until mixture is smooth. Slowly drizzle in the regular (olive/vegetable/canola) oil with the setting on stir or blend. Next, slowly drizzle in the extra-virgin olive oil also while blending until mixture is emulsified and creamy-looking. Taste for seasoning.
Fold the ravioli, aioli, leftover garlic cloves and all the chopped herbs into a large bowl. Sprinkle with a little salt and freshly ground pepper. Serve immediately.
Cost Calculator
(for about 6 servings)
2 cups flour: $0.75
5 eggs and 1 yolk (at $3/dozen): $1.40
15 oz carton ricotta: $2.99
4-5 tablespoons grated parmesan: $2.50
2 garlic heads: $0.50
4 tablespoons fresh oregano: $2.00
4 tablespoons fresh flat-leaf parsley: $1.00
4 tablespoons fresh sage: $1.00
1 tablespoon lemon juice: $0.15
1/2 teaspoon Dijon mustard: $0.07
2/3 cup extra-virgin olive oil: $2.00
1/3 cup canola oil: $0.25
salt, pepper: $0.03
Total: $14.64
Health Factor
Seven brownie points: It's party food, not everyday food. That's why it's drenched in oil, filled with cheese and full of yolk. But aside from that, it's also heavy on vitamin-rich herbs that, when used profusely as here, can stand in as your leafy greens. Parsley is notably nutrient-rich, full of B vitamins, Vitamins K, A and C, and is low in calories.