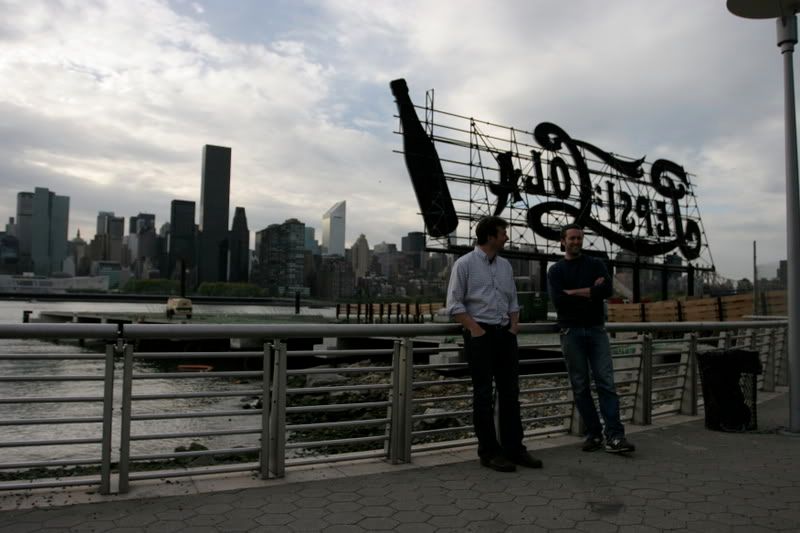 This land is corn land: Curt Ellis (left) and Ian Cheney in Queens
It's not a joke. More than 80 million acres of corn were planted in the US last year. Yet only 253,500 of them were sweet corn, for eating on the cob. Where does the rest of it go? Leave it to Aaron Woolf, Ian Cheney, and Curt Ellis to illustrate this — and many other crucial facts about our current agricultural system and diet — in their documentary film, King Corn. These college buddies did what many a young urbanite might dream of and moved out to the heartland to learn what it takes to grow an acre of corn. If you don't mind a double-dose of my wit and wisdom, read more about the film at The Reeler. Also, check out Curt's ongoing blog on more food insights as he travels for the film, which is up and running at Culinate.

I consider myself a lucky person to tell you, first-hand, how engagingly this film examines the farm bill's implications on the entire country. I'm burning out a little bit after writing The Reeler story, so please bear with me.
The film's New York premiere is this Friday at Cinema Village, and it heads into other cities soon — check out the film's website for screening dates near you.
"We didn't set out to write a prescription for how to solve our food problems, but put the reality of what we're eating in front of us. So people can make up their minds about what they eat," said Ian. Awesome guys, all three of them.
I encourage you to sit back and enjoy their film. And then, tell me what y'all thought.