Braciole, or roulade? Such different-sounding words for such similar spirals of meat and filling. The former, I've just learned, is merely an Italian American variety of the latter French creation. Because the ingredients I've chosen for this one's filling are more typically Italian than French, though, I'll go with naming it a braciole.

Not that I'm well-versed in either category. This was my first attempt at the intricate dish. It looks intimidating, but the hardest part for me was finding the right type of string to tie the coiled bundle up with — and figuring out how best to. I don't really like to have many cooking tools around the house (it makes me feel pressured to use them all at once — not the best idea), but somehow this doesn't stop me from trying any recipe I'm not adequately prepared for. I'm ashamed to admit the string I ended up using by default was unwaxed dental floss. I probably shouldn't even be allowed to say this publicly, since I have no idea what kind of noxious chemicals might be laying dormant in that innocent-looking floss, just waiting to emit with the touch of heat. I still don't… and would rather not. Let's just say I'll be better equipped next time. But the one thing I can tell you is that it didn't work out too terribly.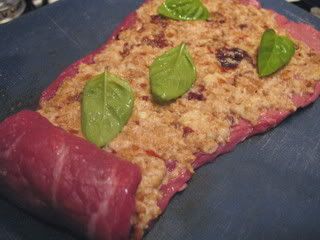 gettin' rolley-polley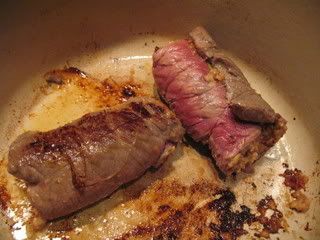 bundles of joy
Not sure how to best secure the roll so that the least amount of filling spilled out during cooking, I was a little over-zealous tying up the braciole at first. The first one I completed resembled a bloated cocoon. That anxious butterfly wasn't going anywhere, I thought. The second one I eased up a bit on the tying, and with both I tried to cut off every bit of extraneous strands hanging off from them. Toward the end of braising, I was dismayed to find that the braciole were both oozing soft mush from the ends. So much for that. But once they were removed from the pot and cooled, it appeared that the lost stuff was extraneous after all — each slice produced a perfect lollipop swirl of wine-soaked meat and spongey filling highlighted with bits of sundried tomatoes and basil. It looked pretty, alright, and the 45 minutes of braising lent the meat a tender, flaky texture.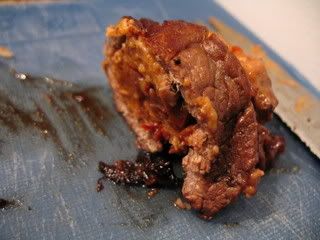 an ultra-concentrated sundried tomato-red wine tar clung to these pieces post-braising, a base for the reduction sauce

All week long I'd been waiting to go to the Farmers' Market to fix my craving for potatoes. I walked away satisfied and weighted down with a bagful of pebbly red ones. I don't go terribly crazy over different types potatoes — fingerling are nice and pleasantly firm for roasting. But I've yet to find a potatoey taste that I enjoy as much as the roasted skin of any 'ol red potato, highlighted perhaps with a little crust of salt and dried rosemary. Call me old-fashioned, if you will.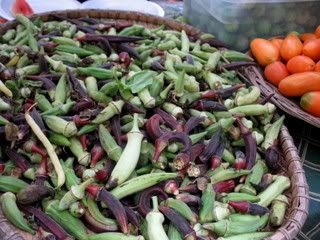 purple and green okra — Kermit might approve
Along with potatoes, I picked up these beautiful, horn-shaped green and purple okra. Looks like I'd stumbled upon a jackpot: Purple okra, which are deep aubergine in color and tasted, to me at least, exactly like their green counterparts, are only around at peak harvest times. So get 'em while they last! Oh, and this roasted veggie side dish tastes marvelous at room temperature or even cold, too.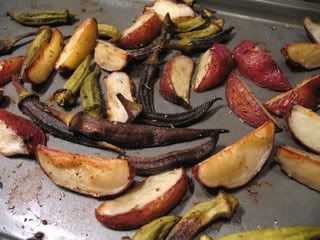 potato wedges and whole okra (you can eat the stems!), simply roasted
Braised Beef Braciole with Sundried Tomatoes & Basil
(makes 2 big servings)
2 approximately 1/2-pound thin strips flank or round steak (or 3 smaller ones)
3 sundried tomato halves, dry or oil-packed (if using dry, soak in 3/4 cup boiling water and reserve water for braising)
1 cup fresh bread crumbs, coarsely chopped or crumbled
1/4 cup milk
2 tablespoons grated Parmiggiano-Reggiano
1 clove garlic, minced
6-8 basil leaves
3/4 cup dry red wine
3/4 cup liquid from soaking the dry tomato halves, or low-sodium beef broth
2 tablespoons olive oil
Coarse salt and freshly ground black pepper
In a bowl, combine the bread crumbs with milk and let sit for 5 minutes. If using the soaked dry sundried tomatoes, squeeze dry after soaking and reserve water. Chop sundried tomatoes coarsely and add to the bread crumbs. Stir in the garlic, Parmiggiano-Reggiano and a pinch of black pepper.
Place steak strips on a layer of plastic wrap and place another layer of plastic wrap on top. Using a wide, flat meat tenderizer (cough — jar of pickles), gently tenderize meat so that it flattens to about 1/8″ thick. Season both sides of the meat with a sprinkle of salt and season with pepper on one side only. On the side with the pepper, spread the bread crumb mixture evenly on each strip. Top with basil leaves. Starting with the narrowest end first, roll up the steak completely (it doesn't have to be too tight). Secure each rolled bundle with butcher twine in whichever fashion works best for you, but make sure to wrap the twine lengthwise around the bundle at least once so that the filling has a little security from spilling out (it will still spill out quite a bit).
In a heavy-bottomed covered skillet or Dutch oven, heat the olive oil for 1 minute on high. Place the braciole rolls a few inches apart and let brown on one side for 2-3 minutes. Carefully loosen the bottom of the meat with a spatula before using a pair of tongs to gently turn the braciole on the opposite side. Let brown another 2 minutes. Add the wine and sundried tomato soaking liquid (or beef broth) to the pan, reduce heat to low and cover. Gently simmer for 45 minutes to 1 hour.
Uncover and carefully remove the braciole from the pan. There should still be some liquid in the pan along with spilled-out filling. Scrape the bottom of the pan to incorporate all the bits into the broth. Stir for 1-2 minutes, under medium heat until the sauce has reduced to a thick gravy. (If there isn't enough liquid in the pan to begin with, add a little bit of boiling water and scrape up every last bit stuck to the bottom of the pan.) If desired, use a hand processor to blend the bits into a thick, consistent sauce. Slice the braciole into 1/2-1″ pieces and top with the sauce. Serve immediately.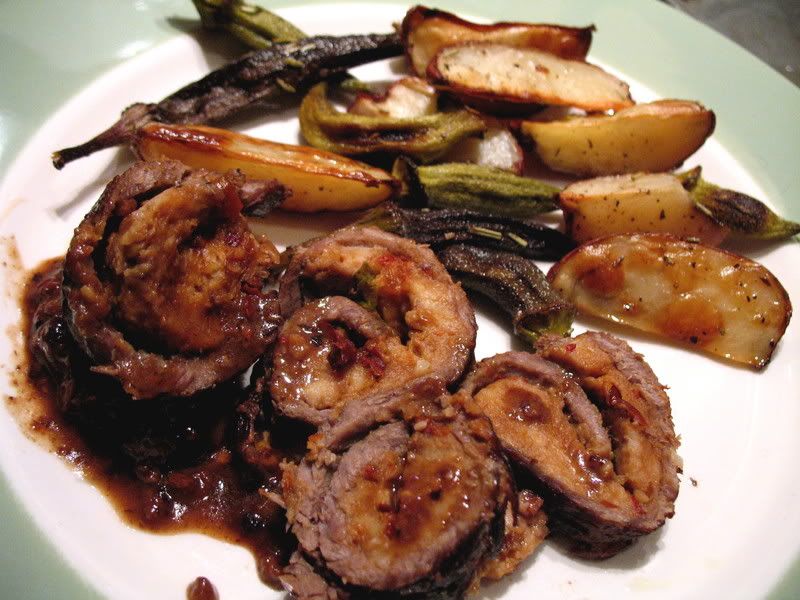 the super side:
Roasted Potatoes & Okra
(makes 3-4 servings — so you'll have leftovers!)
3-4 medium-large red potatoes (maybe 1.5 pounds), sliced into long wedges
1/2 pound whole okra, both green and purple ones if you can find them
1/2 teaspoon coarse salt
1/4 teaspoon rosemary
1 tablespoon extra-virgin olive oil
Preheat oven to 350 degrees. Coat potatoes and okra with oil, salt and rosemary. Spread out on a baking sheet and bake for around 40 minutes until the potatoes are just soft and slightly browned. For a more evenly browned result, gently rotate vegetables on the baking sheet once midway into roasting.
Cost Calculator
(for entire meal for 2, plus leftovers of potatoes & okra)
1 lb thinly sliced bottom round steak: $5
3 dry sundried tomatoes (at $2/3 oz. bag): $0.20
1 cup fresh bread crumbs: $0.50
1/4 cup milk: $0.20
2 Tb grated Parmiggiano-Reggiano: $0.60
8 basil leaves (from plant): $0.50
3/4 cup wine (no idea — the bottle was given to me): $2.00
4 red potatoes (at $1/lb): $1.50
1/2 lb whole okra (at $3/lb): $1.50
1 clove garlic, 3 Tb olive oil, 1/4 tsp rosemary, salt, pepper: $0.30
Total: $12.30
Health Calculator
(for both courses)








Five brownie points: Looks unbelievably hearty and savory for only five brownie points, you say? I know. It tasted that way, too. This is an instance where health lies heavily in the hands of your butcher. Take your pick of cuts — fatty, or incredibly lean — and the scale will tilt to one direction or the other. The rest of the recipe is minimal in fats, and full of a wide range of benefits. Cooking with wine, for example, gives you the same antioxidants and supposed cholesterol-reducing effects of drinking it without the liver damage risk (though we all know it's the best excuse to drink while you cook). Okra is a plentiful pod that can invade my kitchen any time it wishes. And check out how many varieties there are of it — one's named after Annie Oakley?? Sounds like my kind of vegetable.