As you can see, I'm drinking to the end of summer. Stirred (not shaken) up as a last-minute idea for the Salsa Takedown at Mo Pitkins, this salsa is my sloppy toast to another warm season of farm-fresh fruits and vegetables, many of which I feel much closer to in the wake of their departure for the fall.

I find nothing sacrilege about tainting the sweetest, loveliest tomatoes with vodka. In fact, tasting this fresh homage to the classic Bloody Mary — all chopped up — made me yearn to blend up my juices fresh the next time I make the cocktail, instead of using store-bought tomato juice. I suppose that will have to wait till next summer, though, to sample it with equally sweet and superior tomatoes.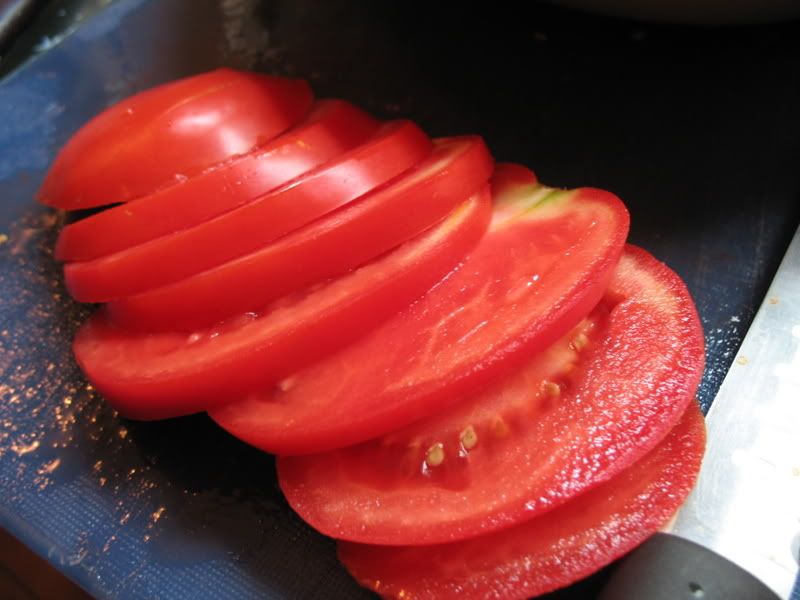 more than just a summer fling
Not surprisingly, the salsa came out tasting exactly like the way I like my Bloody Mary: spicy, horseradish-y, black peppery and lemony. It incorporates pretty much all the same ingredients I would use to make a Bloody Mary, including chopped-up stuffed olives and celery bits and some fresh hot peppers for bite instead of just hot sauce. The key is to let the salsa marinate for a few hours before dipping into it with chips, to both let the juices seep back into the chunks and hence be less watery and to allow the flavors to mate and have offspring flavors of their own.

who knew there were so many types of hot peppers growing in New York's backyard?
Whether the Bloody Mary is a flavor combination that most people actually like, however, is something much more vague to me. I began to notice this at the Salsa Takedown, where my entry took a four-way tie for fourth place (out of five). No doubt, there were some terrific-tasting salsas at the event, and a good time was had by all. But I got to thinking that the Bloody Mary is just not that widespread in popularity. It's a tad too dated, or esoteric to take on a food twist of itself, sort of like trying to translate the Black & Tan into a cake flavor. You just kind of have to be a fan of its inspiration first. Which isn't a problem for me.

pulpy pieces pre-tossing
Bloody Mary Salsa
(makes about 6 cups)
4-5 ripe red tomatoes, finely diced
1 cup yellow or orange grape tomatoes, quartered (optional, mostly for color)
2 stalks celery hearts plus leaves, very finely chopped
1/4 cup onion, very finely chopped
2 scallions, both white and green parts, finely sliced
2-3 medium-hot chili peppers, seeded and finely chopped
1/4 cup Spanish pimento olives, rinsed, dried and sliced
juice of 2 lemons and 1 tsp of zest
2 tsp Worcestershire sauce
2 Tb prepared horseradish
1-2 tsp Tabasco sauce
1 tsp salt
1 tsp coarsely ground black pepper
1/2 tsp Cajun seasoning, such as Old Bay
1 shot vodka (optional)
Combine everything in a giant bowl. Cover with plastic wrap and chill in the refrigerator for at least 2 hours before serving with chips so that the flavors have had sufficient time to bind. Or let chill overnight. Keep up to one week covered and refrigerated.
Cost Calculator
(for 6 cups)
5 medium plum tomatoes (at $2/lb from Farmers' Market): $4.50
1 cup orange grape tomatoes (from a carton at $3): $2.00
2 chili peppers and 1 jalapeno pepper (at $2/lb): $0.30
2 stalks celery plus leaves (at $2/head): $0.33
2 scallions (at $2/bunch of 5): $0.80
1/4 cup chopped onion (at $1/lb): $0.25
2 lemons (at 3/$1): $0.67
2 Tb jarred prepared horseradish: $0.40
2 tsp Worcestershire sauce: $0.25
1 tsp Tabasco sauce: $0.20
1/4 cup Spanish olives (at $1.50/jar): $0.40
salt, pepper, 1/2 tsp Old Bay: $0.20
1 shot vodka: $1.00
Total: $11.30
Health Factor





Three brownie points: Excepting that shot of vodka, this would have been a shoo-in for only two brownie points. Mostly fresh veggies like tomatoes and celery, no fat, and minimal jarred and sodium-packed ingredients (compared to the cocktail). A summer salsa worthy of all the vitamin-rich and unprocessed implications of the word. But who are you kidding — why wouldn't you spike it with vodka? It's the perfect excuse.