grapes at Lamoreaux Landing vineyard, on the northeast side of the lake
Ah, vacation. A little respite from the heat, the smog, the whiny, cosmopolitan attitude that had been pressure-cooking in me all summer long. Though it was only two days in total and a whopping five hours drive from New York City, this weekend I escaped for a holiday up north. And it was just in the nick of time, too. A change of pace on Labor Day weekend is simply the only thing one can do to rid the mind of the reality that this is the weekend that changes everything: No more summer Fridays, no more wearing sandals, white or seersucker, no more "it's summer" shrugs and excuses. No more shrugging, period.

A little vino helps one swallow this considerably. There's still time left this Labor Day evening to exalt in a little freedom, and to that end this post is all about eating out in New York — upstate New York, in the nation's second largest wine-making region, the Finger Lakes. Beware, an opinionated and irresponsibly under-researched account of my 48 hours in Watkins Glen, Hector and surrounding towns along the Seneca Lake wine trail follows. So here I go food blogging like one of those pesky little camera-toting self-declared restaurant critics that Mario Batali despises!
Wine tasting was interspersed throughout these two days in no particular fashion or order of importance. However, I didn't sample enough of these wineries to rightly compare or offer any good advice outside of what is offered on most travel sites or brochures. I do want to warn against a type of wine that is so popular in this region, the "sweet" wine with words like "breeze" and "mist" in their names. They exist, is simply all. Don't tell me I didn't warn you next time.

the action at the wine tasting counter at Red Newt Wine Cellars in Hector
Unlike the wineries, I fully researched the food before diving in. My first and favorite meal of the trip was lunch at the Stonecat Cafe in Hector. I had the cornmeal-crusted catfish sandwich on a ciabatta roll with chipotle and sweet red pepper mayonnaise, lettuce and tomato. That tender fish nearly spurted with juiciness when I broke its crisp helmet of cornmeal batter with my fork. Both parts were delicately seasoned and the fish was fresh and piping hot.

Stonecat Cafe's cornmeal-crusted catfish with dill coleslaw and green beans

a diner at the Stonecat Cafe tucks into a house-smoked pulled pork sandwich on the outdoor dining porch overlooking a lakeside vineyard
This trendy, vegetarian-friendly and seasonal menu was also priced surprisingly friendly. My seafood lunch was $9, not to mention that their local Finger Lakes wine menu ranged in price from $4.50-$6.50 a glass. Ben and I almost wanted to come back again the next day.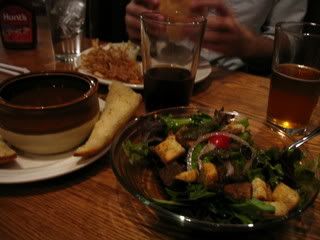 Dinner was an underwhelming trip to a new Watkins Glen hangout, The Wildflower Cafe and Crooked Rooster Brewpup, known for their home-brewed craft ales. Ben ordered the Hefeweizen, which held true to its promise of tasting (and smelling) like bananas, and was bright and hoppy to add. I ordered a lager called "Mystery"; its description on the menu explained that it was so uncannily complex that no one could presume to know what its taste resembled. I took a sip and thought I had it figured out, though — it tasted like a Brooklyn Lager! Uncannily so.
After beer, we placed our orders for burgers, soup and salad. Now, instead of getting into how the soup was lukewarm and served alongside a narrow triangle of garlic bread that seemed to have been buttered and left out yesterday, and the balsamic vinaigrette seemed comprised of 95% vinegar and 5% oil, and a "medium"-cooked burger came out well into the well-done range — instead of all that, I'll just note that this is an upbeat family-style restaurant with an extensive pub menu and energetic craft ale culture. No plate was more than $20, and plenty of dinner options like individual pizzas, sandwiches and Mexican plates were even under $8. (Wildflower Cafe, if you have any hard feelings, here's my mugshot.) And with that, Day One was done.
Day Two
Of course, breakfasts are taken care of when staying at a bed and breakfast. I'd chosen the Idlwilde Inn in Watkins Glen, a quaint Victorian mansion situated at the top of a steep hill overlooking Seneca Lake. The included meal was good enough to pay for — both mornings a different breakfast entree was served, along with a bar of fresh fruit, cereal, juice and coffee.

an elegant free breakfast at Idlwilde Inn in Watkins Glen
I was a little perplexed when, on my first morning, I was served a plate that exactly resembled the one pictured above only without the sausage links. Everyone else in the room received theirs with. I didn't make a peep to anyone else, but had to wonder if the innkeepers who served us assumed I was some type of granola crunching girly-girl. I get this a lot.

a glimpse of the circa-1897 mansion-turned inn
A few hours and some wines later, another lunch was in store. For this, we went to another up-and-coming newcomer to the Seneca Lake scene, the Red Newt Bistro in Hector.

a sunny outdoor table at Red Newt Bistro awaits a lucky party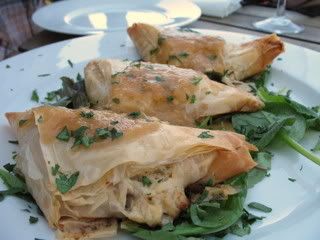 like Stonecat Cafe, the Red Newt Bistro reveres its seasonal local produce; their peach sauce-topped phyllo dough triangles with chicken confit appetizer stood tasty testament
I ordered one of the specials, a "turnover" stuffed with smoked turkey, ricotta, sundried tomatoes and baby spinach and topped with a parmesan cream sauce. I cannot, nor will not now try to, make puff pastry the way the chef at Red Newt does (whom I shall informally refer to as the Puff Daddy). It was tasty and delicate, perfectly crisp brown on top and cooked through enough to safely cradle its hot, creamy filling, like the most delicate Shanghai-style soup dumpling's skin. The comforting mixture of ricotta, smoked turkey squares and plummy sundried tomatoes inside wet each flaky layer of dough as the meal went on. And went on it did. This great big turnover was so rich and filling that I was stuffed until an 8:30pm dinner.

glutton for reward
That said, I may attempt to make their pasta. Ben ordered a delightful lunch of cheese tortellini surrounded with fresh sweet corn, carmelized onion and cherry tomatoes drenched in olive oil. It was seasonal, unassuming and beautiful.
And just what I was in the mood for the next evening. I'd gotten back to Brooklyn a little before dusk, hauling back two bagfuls of vegetables from a roadside produce stand. Using some of this fresh corn and ripe tomatoes along with some overgrown basil plant leaves, onions and a box of shell pasta (eh, who needs tortellini?), the dish was done in a pinch. (Recipe soon to be posted.)
That's pretty much it for the interesting culinaria of my weekend in Seneca Lake. But last and certainly least, I dined at a place called the House of Hong, in the heart of Watkins Glen. I don't know, there's something about the triumph of Americanized Chinese food uniformity — whether you're in rural country or New York City — that fascinates me. As soon as we sat down before a neon-lit fishtank, it was clear that this was no exception. The laminated menus were sticky from overuse. The menu items were a limited offering of four or so dishes per meat substance: Would you care for your beef, chicken or pork with broccoli, with mixed vegetables, with snow seas, Szechuan, sweet and sour, or Hunan? It was as if someone had devised the restaurant menu with an abacus, and instituted a smattering of take-out staples.
Reliably cheap and not too crummy, it was the perfect send-off for my weekend upstate eat-out-a-thon. Now back to whine with an "h" and your regular urban cooking-on-a-shoestring program.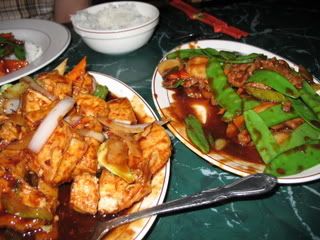 two of the aforementioned