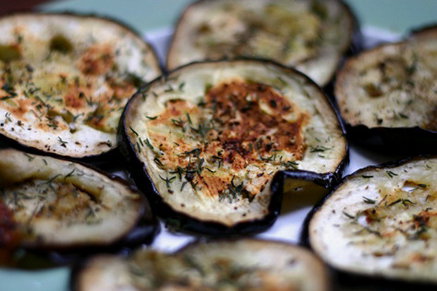 Is there something wrong with me? Does anybody else suffer from this problem? Let me back up. Throughout my entire life, I have eaten and enjoyed eggplant. I recall one day at my old apartment, I proposed cooking an eggplant dish with then-roommate Erin. She said she was allergic to eggplant — "It makes my mouth itchy." Well that's unfortunate, I thought. Then today I made this baked eggplant, sauteed spinach, fresh mozzarella and sundried tomato crostini, and found myself smacking my mouth afterwards, annoyed by this fuzzy, tingly itchy feel on my tongue.


burned by bruschetta
The eggplant itchy mouthfeel syndrome! Did Erin pass it on to me by co-habitation? Does one acquire it with age or with increased eggplant consumption? Whatever it is, what a total bummer.
I did a little research and found that an eggplant oral allergy was identified by the American Academy of Allergy Asthma & Immunology. Also, an article purporting that oral allergy syndrome, as it were, may be worsened by the presence of ragweed, which occurs after August 15 — uhh, now. Incidentally, this is also the best time of the year for eggplant! In many stripes and sizes. I know you're all eating them as I write. Grilled and drizzled with olive oil, battered and fried, roasted and chilled or baba ghanoushed. You cannot resist those pearly teardrops of purpleness. So tell me, all you otherwise eggplant-happy eaters, are you experiencing what I'm experiencing? (Imagine me in pink headband and fringed sleeves: "Are you experienced? Have you ever been experienced (with the itchy oral eggplant syndrome)? Well, I have.")
Truth be told, the itchy feel wasn't so unpleasant that I couldn't go on with my evening and forget about it completely after some drinks. I'd say it lasted a couple of hours. Also, I was drinking white wine along with this dish, and wonder if the alcohol could have possibly agitated whatever chemicals were going on in my mouth or dried out my tongue too much.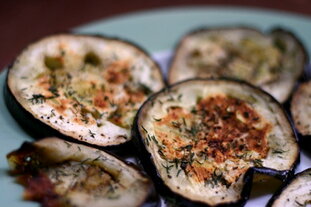 itching to attack
Aside: If you're wondering why these photos look eight times more sophisticated than my usual ones, it's because I stole my boyfriend's digital camera to snap them while he was out (and since I left my camera at someone's house). Ben recently got a new lens, too, and is very excited about having the same camera and lens as "the Smitten Kitchen Lady," aka Deb. I know — Hooray, finally an upgrade! Well, I don't know how long that will last. I barely know how to hold the thing, so consider this post a rare visual treat.