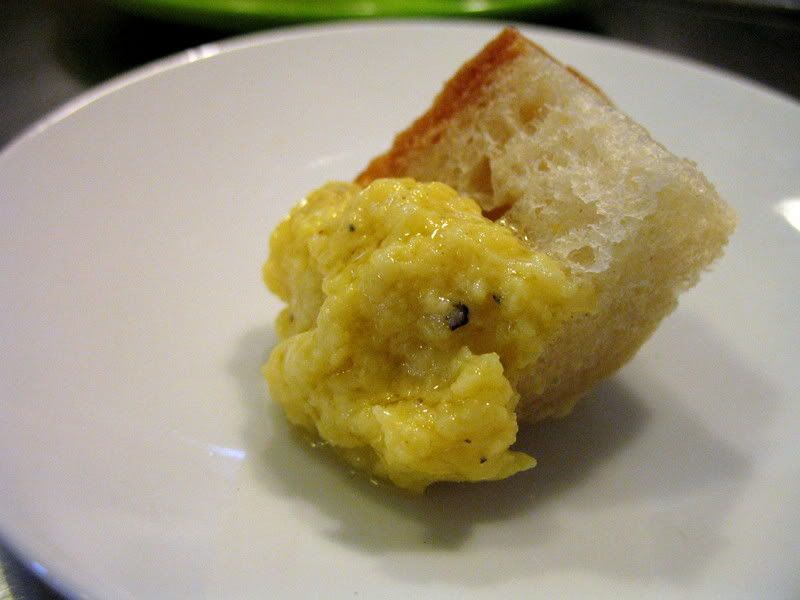 What a week it's been. Working and barely playing when it's nice out for me always adds up to a slow way to count the weekdays. But luckily, a blissful way to end it came in the form of the second Foodie Book Club meeting at The Brooklyn Kitchen, where we tried to speak intelligently about Jean Anthelme Brillat-Savarin's bible of epicurean philosophy, The Physiology of Taste, as translated and annotated by America's pioneering gastronome, M.F.K. Fisher. (It is a work that, aside from all else, couldn't be more pertinent to the young food blogger.) Thankfully, our session wasn't quite as taxing as it might sound, and was complimented with likewise simple recreations of some of the foods that he spoke so fondly of.

Fondue may have been invented by the Swiss, and Brillat-Savarin refers to this in his book. But his interpretation of it, nearly verbatim, was to lightly scramble a mixture of eggs, "good" Gruyere and butter in a pan "until they have become properly thick and soft." This, Harry followed reverently in the store's kitchen. "Call for the best wine," Brillat-Savarin wrote at the end of his recipe, "which will be copiously drunk, and you will see miracles." Well, I didn't drink very copiously, but I did have some wine, and it was perhaps the best fondue I'd ever tasted.

this 1825 recipe for fondue requires no special pot
I'd also thought about making this recipe myself to bring to the table, but considered its transportation impossible. Another dish involving eggs, though, looked slightly more probable: a tuna omelette. Brillat-Savarin described the preparation of this omelette involving fresh tuna, carp roe, shallot, butter, lemon and of course, eggs. Yet his edict, "to be eaten at once," posed problems. Furthermore, I couldn't think of an appealing way to serve it, and, since none is provided in the book, wonder if it's supposed to be enjoyed communally at all. So I ended up using what I had in the kitchen, which included eggs and tuna, and created a more party-friendly deviled egg variety.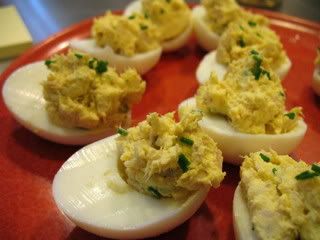 eggs and tuna make a deal with the devil, inspired by a dish described by Brillat-Savarin
Though our meeting just scraped at the iceberg of the author's breadth of wisdom (no one had finished the book completely), one basic creed from the book was vividly put to trial. Early on, Brillat-Savarin discourses on bouilli, better known as beef broth. He goes on to describe four strict types of people who eat it before concluding the "incontestible truth" about it, that it is "flesh without its blood." According to Brillat-Savarin, this was hostilely disrespectful, and therefore no true gastronome would deign to eat it. In Fisher's annotation from 1949, she noted that the truth of his remark was beginning to catch on. Now, at a when most reminders of any food's animal past are carefully tucked away from sight, this forgotten insight, too, is in need of resurrecting.
But in the meantime, we tried some of that bouilli.

a bowl of Taylor's irreverent bouilli — "flesh without its blood"
Tuna Deviled Eggs
(makes 12 devilled half-eggs)
6 eggs
1/2 can solid or chunk white tuna, drained
1/3 cup light mayonnaise
1 tsp mustard
pinch of salt and fresh ground pepper
1 Tb fresh chives, finely chopped
Hard-boil eggs. Let cool in cold water and peel shells. Slice eggs in half lengthwise and drop yolks into a mixing bowl. Add to bowl the tuna, mayonnaise, mustard, salt, pepper and half of the chives. Mix thoroughly. Fill each half-egg with mixture and garnish with the rest of the chives.
Cost Calculator
(for 12 devilled eggs)
6 eggs (at $3/doz); $1.50
1/2 can solid white tuna (at $1.50/can): $0.75
1/3 cup mayonnaise: $0.25
mustard, salt and pepper: $0.12
1 Tb fresh chives (albeit from neighbor's plant): $0.25 (?)
Total: $2.37
Health Factor







Six brownie points: Tuna is one of those ingredients that gets a new rap like a Hollywood starlet gets a new hair color. There's been a lot of hoo-ha brewing about the fact that it contains omega-3 fatty acids, a heretofore overlooked tool in countering the cholesterol that most Americans eat in abundance. Then there's the always-pertinent threat of mercury. I don't know what to say about tuna anymore, but I'm certainly not going to dispel the fact that it's still a canned fish just because it happens to be riding a new big health kahuna.