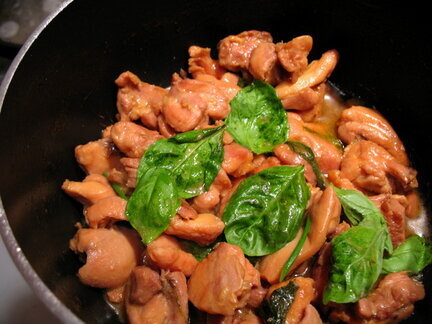 If I had my way with space, I'd have three different types of basil growing in my front yard (okay, my apartment building's front patch of grass). This would have to include the ubiquitous Italian variety, with its shiny, fat teardrop-shaped leaves. As well as the purple basil which I've been eyeing and smelling at Farmer's Markets but have no idea what it tastes like (it smells like basil). And most direly, a Thai basil plant: a matte, darker green-leaved variety with perfectly jagged edges on its leaves like a serrated knife. Because its taste is so furtively distinct, a shade sweeter than the lone European basil I now have, with it I could command Thai dishes with more authenticity, and attempt to recreate some of my favorite Taiwanese dishes more properly.
What a sweet dream… Back to the blog: I was going to provide a recipe for one of my all-time favorite dishes, the famous Three Cup Chicken. One of the crown gems of Taiwanese cuisine, it's a pungent dish that marries loud flavors in perfect harmony. What, you haven't heard of it? Ah, well. There's always a start. Contrary to popular belief, this dish is a quick braise, not a stew, and not a stir-fry. Its traditional recipe comprises a braise of one cup of soy sauce, one cup of sesame oil, and one cup of rice wine, hence the name "Three Cup Chicken" (san bei ji in Chinese). Next, the chicken is festooned with literally handfuls of garlic cloves, big strips of fresh ginger, and loads of fresh Thai basil. It's basically the best-tasting dish in the world.

The dish is so well known in Taiwan that it can be found in restaurants throughout mainland China (despite their tense political relations). Why it hasn't caught on in the US I'm not sure, but now you can't blame me for it. It's not uncommon in Taiwan to find a similar dish with fresh and chewy squid instead of chicken. I think that one will take a little bit longer to catch on, though I'm sure Italian food enthusiasts would be first to love it.
The best San Bei Ji I've had in this country was at a place called Taiwan Cafe in Boston's Chinatown. There, they use bony pieces of dark meat chicken — mostly legs cut right across the bone into thirds. You'd have to have a butcher do this for you, or if you're crazy like me, you'll go for it at home by taking a cleaver and pounding the top of it with a wooden cutting board in order to make a clean cut through the leg. Bones add more flavor, plus they're deemed fun to eat off of, especially when they're sturdy cylinders such as pieces of a chicken's leg. (While I extoll the virtues of bony chicken meat I also admit that when I made this dish most recently for six people including my boyfriend's parents who'd never tried anything like it, and knowing that my boyfriend will not touch chicken with the bone still in it — nay, doesn't know how to, I used boneless chicken thighs cut into 1-2 inch pieces.)
I arrived at this Taiwanese recipe online which I think provides the most basic, accurate, recipe for the dish. Yes, it does say 20 cloves of garlic, 20 slices of ginger, and 2 cups of basil per 2 lb of chicken. The picture I took above has a little less than the purist would require, though all the spices wanted to settle at the bottom right then. Make some yourself and take better shots of it to show me!
Taiwanese Three Cup Chicken
(makes about 4 servings)
3 lb chicken, preferably with-bone legs chopped to thirds, or dark meat with or without bone cut into 1-2″ pieces
1/3 cup sesame oil
1/3 cup soy sauce
1/3 cup rice wine
20 cloves of garlic, smashed or coarsely chopped
20 slices of fresh ginger
2 cups Thai basil leaves
3 Tb sugar
1-2 scallions, chopped (optional)
rice for serving
In a large nonstick pan, heat up sesame oil with garlic and ginger until oil just begins to bubble. Add chicken and stir to brown pieces on all sides a little bit. Add rice wine, soy sauce, and sugar. Stir until boiling, then cover. Let simmer on medium until chicken is cooked through, usually somewhere between 5-10 minutes depending on how large the chicken pieces are. Remove cover. Stir in basil and scallions (if using) and serve over rice.
Cost Calculator
(for 4 servings)
3 lb chicken with bone: $6.00
1/3 cup rice wine: $0.30
1/3 cup soy sauce: $0.20
20 cloves garlic: $1.00
20 slices of ginger: $0.75
2 cups Thai basil: $2.50
3 Tb sugar: $0.10
1 scallion: $0.15
Total: $11.00
Health Factor





Five brownie points: Given that vegetable side dishes would likely be in order when serving, this as a meat dish alone is fairly average. Adjusting soy sauce to a little less than 1/3 cup would probably satisfy most diners' taste for salt, as it does mine, because this just happens to be a very salty, flavorful dish.