Carmelized onions. Hint of shallots. Last bottle of Yuengling Lager from last weekend's burger feast. Score: the roast with the most.
How many times have you seen that commercial for Fresh Direct where Cynthia Nixon keeps asking "What's the TLC? Where does it say TLC?" Well, not all recipes necessarily need TLC. With some, you can walk away perfectly aloof to a simmering pot for a couple of hours, and come back to a balanced, tender, moist and delicate hunk of roast. The only tender loving care I gave to this dish was actually slicing the meat, since it splintered so much it would fall apart with a touch that was too rough. Sounds a bit incongruous for a way to handle a hulking wodge of beef. So forgive me, vegetarian friends, as I indulge.

Equally loved by French and Germans, beer is a simple, one-step cooking liquid that reaps complex, savory results. I didn't even need to add any more salt or spices to the dish after seasoning the meat before browning it. I'd seen it prepared with only onions before in a French dish, and it's uncanny how similar the flavor of this resembles a really good French onion soup. Not like beer at all. I chose a really mild beer for a lighter taste (alright, it was just what I had lying around), but I'm sure it would be fun to try all kinds of hoppy ales and darker brews as well.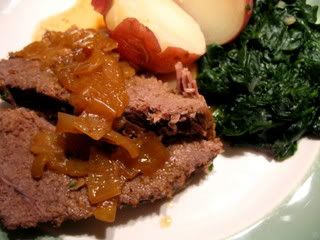 Beer-Braised Pot Roast
(makes about 4-5 main-course servings)
2 1/4 – 2 1/2 lb beef roast
3 medium yellow onions, coarsley sliced
2 shallots, coarsley chopped
1 bottle beer
1/4 cup water
Salt and fresh ground pepper to taste
1 Tb olive oil
Rub salt and pepper onto all sides of roast. Heat oil on high heat in a heavy, medium large pan or dutch oven. Brown beef on each side for about 5 minutes a side. Remove from pan. Turn heat down to medium low and add onions and shallots, stirring and scraping up bits from the bottom of the pan for about 5 minutes. Place roast back into pan and pour in beer and water. Cover, and simmer for about 2 hours. Flip roast onto its other side about halfway through cooking. Season to taste and serve with potatoes, noodles, or bread. If desired, sauce can be thickened with flour to serve as a gravy.
Cost Calculator
(for 4-5 servings)
2.25 lb natural beef roast: $8.50
4 medium onions (at $1.69/bag of 6): $1.13
2 shallots (at $2/bag of 8: $0.50
1 bottle Yuengling Lager: $1.60
Salt, pepper, olive oil: $0.05
Total: $11.78
Health Factor:






Five brownie points: Depends on how lean your roast is. By all means, trim as much fat away as you can since the meat will be so tender and flavorful anyway once it's done braising, you don't really need it. Even though it tasted really heavy and satisfying, my roast was really lean so I didn't see any grease floating around. The onion-y sauce can be used to coat any sides so that they don't need much butter or oil.