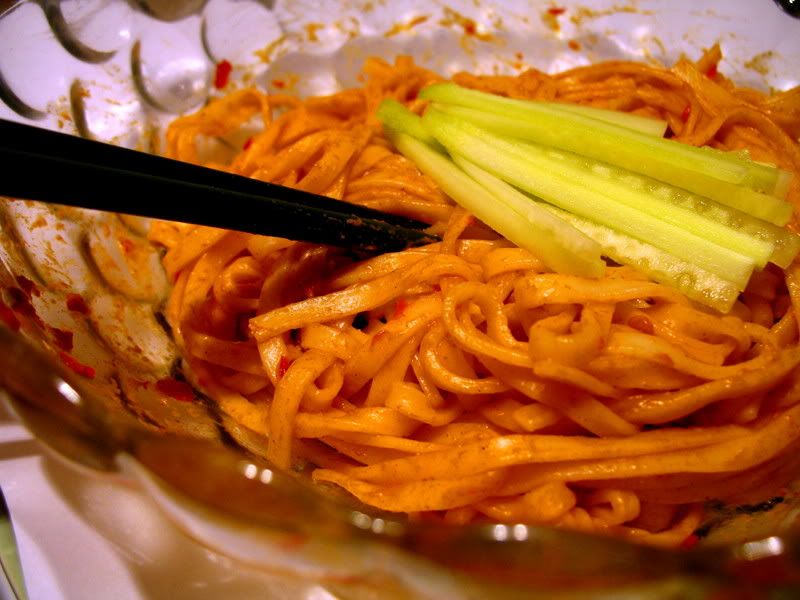 A lovely article in the New York Times Magazine last week that aimed to decode the recipe behind the perfect bowl of cold sesame noodles was all the excuse I needed to indulge you with another testament to my fondness for the dish.
It's an unconditional love that extends from the classic cold staple to a decidedly spicy variety that I like to prepare hot. Yes, hot. I'm not exactly sure how or when I learned to enjoy this dish, but I'm pretty sure my mother was the instigator. The minute I mix together sesame paste with red chili garlic sauce my nose tingles with an unmistakable sensory memory–of the food, itself, not how I learned to make it. It's a sharp, cutting scent that foretells fieriness. And another hackjob at my tastebuds.

If Sam Sifton's recipe, provided in the magazine article, is "almost comically easy to prepare," then mine is a big bellyaching guffaw. His recipe uses not only sesame paste but peanut butter, grated ginger, vinegar, sugar and chopped peanuts, all ingredients I do without. Toasted sesame paste has such a unique, sweet nutty flavor that instantly reminds you of peanut butter, but rather than make it indistinguishable, I prefer to skip blending the two together. After all, it's sesame noodles. The type of hot sauce I use, a common variety of Vietnamese chili garlic sauce (Sriracha) that's slightly chunky in texture, with whole pepper seeds, is already satisfyingly tangy with vinegar, and I use so much that it suffices for vinegar. For texture, I followed a cue from the recipe and added thinly sliced cucumber, though I occasionally add in scallions or even a scrambled egg mixed in with the noodles. Whatever the add-in, it's best to have a contrasting texture and an opaque flavor that soaks in all the rest. While the recipe in the article purports the perfect sesame noodle as a balancing act of sweet, spicy and salty, I tend to reserve this equation for other dishes, like Pad Thai, and leave this one scaled back in sweetness.
Its intense flavor and 4-ingredient (all staples in my kitchen) makes this noodle a perfect dinner at times when I'm in a pinch — and almost recalls instant ramen. Like the cold variety, these noodles have a propensity for sticking together, but instead of adding more sesame oil to untangle them, I can just add a little more hot water. Adding water also helps mellow out the flavors if it has too much, which can be a good save since I never measure allotments.
Hot Sesame Noodles
(makes 1 serving)
1 serving dry Asian noodles, cooked (about 1/4 lb)
About 1 tsp sesame paste (commonly found in Asian grocery stores–different than Tahini, which is raw sesame paste)
1-2 tsp chili garlic sauce (or to taste)
1/2 – 1 tsp soy sauce
About 1 ladle of hot water from boiling the noodles
Thinly sliced cucumber — a handful
In the bottom of a bowl, mix the sauces together until it's smooth and fully combined. Add noodles once they've just finished cooking, straight from the pot of boiling water. Stir to coat evenly, adding more water if desired. Top with cucumber slices.
Cost Calculator
(for 1 serving)
1/4 lb dry noodles (from a 3 lb package for $4): $0.33
1 tsp sesame paste (from a $2 jar): $0.15
1 Tb chili garlic sauce (from a $3 jar): $0.20
1 tsp soy sauce: $0.10
1 handful sliced cucumber: $0.30
Total: $1.08
Health Factor





Five brownie points: noting how salty and pungent the dish is (another thing to watch out for is that dry Asian noodles are usually well-salted, unlike pasta), it definitely still beats instant ramen. If I could read the nutritional information on my jar of sesame paste, it would probably say that it has a little protein too, as well as fat.