Warning: this post contains graphic images not suitable for children under 17
Who had time for Valentine's Day in the middle of last week? Not I. I'm not the only person I know who'd opted to postpone Valentine's Day to a more convenient night this year. But even though I had a long weekend, things kept popping up; people from out of town kept coming to town; there was nothing romantic about Chinese New Year; and then the whole thing was put off until practically a week later. And yet my Netflix queue still hasn't caught up–I'd meant for Chocolat to get here in time.

I got the recipe for individual soft-center chocolate cakes, at my boss's suggestion, from the Ghiradelli website. She told me that she makes these things for her in-laws after dinner because they're so easy, and need only ten minutes to bake. The outcome is blissfully professional, enough to win over the hearts of any in-laws or casual acquaintance alike.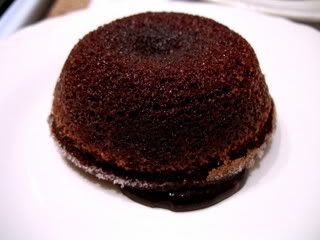 The finished molded cake pooled in the center like a perfectly poached egg, with a warm sugary crust around its edges. I've had many chocolate desserts, but this one eluded me in all the years of eating out. Or if they didn't, they must not have been this good. It was downright stimulating to experience one single bite that encased textures ranging from crispy, to custardy, to pure thick creamy ooze. The warm, complex chocolatey substance lingering in all its glory at the roof of my mouth, in the creases of my lips. It made me feel like an expert pastry chef. The Ghiradelli recipe is great; however I am partial to Jacques Torres and had 2 lbs of 60% dark chocolate to use for just such a treat. I decided to forego the cake flour in the recipe too, substituting all-purpose flour since only a tablespoon was needed after all.
Reason enough to have Valentine's Day on any day of the week? I'd say so.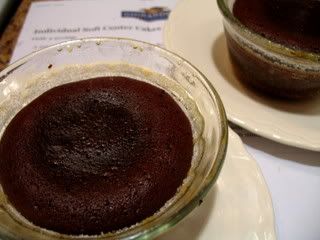 And the main course of the night was a highly differentiated 12-piece box of handcrafted chocolates from le chocolatier encroyable
Health Factor
Though this wasn't my recipe I do feel the need to affix a health factor rating:











Eleven brownie points – 1 stick of butter for four tiny cakes = 2 tablespoons of butter per cake. Funny, and the only thing I tasted was sin…