In celebration of "soup month" February and all the cold, soup-worthy weather we've been having recently, here's my contribution to Soup's On at A Veggie Venture.
It's funny how much the texture of warm chickpeas can parallel that other vegetable commonly paired with leek in a soup–the potato. While leeks cook up insistently savory, the chickpea balances as a more neutral, slightly nutty accoutrement. Thinking more or less of hummous, a little cumin went into this, soft roasted garlic, a squirt of lemon juice for a tang of refreshment–and although this could very well have been left out, I did think that a small dose of sesame paste added an extra layer of character to the soup. I should add that I didn't have the Middle Eastern type of sesame paste, tahini, in my kitchen, but a jar of Chinese sesame taste, which is slightly sweeter, with a thicker consistency. Sesame can be a strong, overpowering presence so a tablespoon was all that was needed for a subtle, lurking note. A bright splash of herbs later, and I had a vegan soup that could be at once Middle Eastern, Italian (as many bean soups are), French, and Chinese. Weird, huh?

I say easy does it when the blending the soup. For me it's always an inviting contrast to come across a whole chickpea and taste its smooth, melt-in-your-mouth creaminess clear my palette a moment. With the combination of spice and acid, I didn't think this soup very comparable to a classic buttery potato leek (seen in one weeknight attempt on this blog), though I didn't miss it for a second. Soup is on.
Sodium warning–If I were making this soup the way I would have preferred I would have used dry beans and soaked them overnight. The fact of the matter is that I almost never do this because I don't have the time, or I don't think ahead enough or that I'm afraid a room-temperature pot of beans sitting around my apartment will go bad. So I buy canned ones. Goya canned ones, in fact, as they're the most available brand in stores. And unless I chance across a store that stocks the reduced sodium cans, then I'm stuck with major sodiumization (360mg for a 15.5oz can of the chick peas), which means I have to add a little water and don't get the pleasure of measuring out a little teaspoon or so of kosher or sea salt. Whatever. It's never that much sodium that it can't be fixed, especially with a recipe as elastic as soup. But it is something to keep in mind.
Chickpea Leek Soup
(makes about 4 servings)
2 15.5-oz cans of chick peas (or equivalent in soaked dry beans)
1 Tb olive oil
about 3/4 cup leeks, chopped
1/2 cup or more water
1/8 tsp cumin
2 garlic cloves, roasted with their skins on for about 15 minutes at 350 degrees
1 Tb sesame paste
Pinch smoked paprika
Pinch rosemary
Pinch thyme or oregano
Dash ground black pepper
1-2 Tb fresh squeezed lemon juice
Chopped chives or parsley for garnish
Roast garlic cloves and remove skins. Sweat leeks and olive oil under very low heat for about 10 minutes partially covered, stirring occasionally. Add chick peas and liquid from cans, and 1/2 cup water. Bring to a boil. Reduce heat to low, add spices and whole garlic cloves (will get blended up later), and let simmer covered for about 15 minutes or more. With a handheld blender or food processor, blend soup lightly until smooth, or to desired chunkiness. Stir in sesame paste and lemon juice. Taste for seasoning, cooking down if too watery or adding more water if too salty. Serve with a sprinkle of chopped chives or other herbs.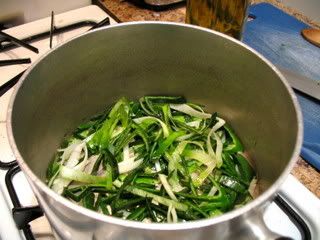 Cost Calculator
(for 4 servings)
2 cans chick peas (at $0.69/1): $1.30
3/4 cups leeks (at $2.49/lb): $0.35
2 garlic cloves (at bag of bulbs for $0.99): $0.03
1-2 Tb fresh lemon juice (about 1/4 lemon at $0.33/each): $0.07
Sprinkle chopped chives: $0.10
1 Tb sesame paste: $0.10
1 Tb olive oil, cumin, paprika, pepper, rosemary, thyme: $0.07
Total: $2.02
Health Factor



Three brownie points – the sodium issue mentioned above withstanding, this is a hefty, healthy little soup. Packed with proteins from the beans, this vegan delight draws on sesame paste and spices for flavor, but most of all, the fresh green leeks prevail.