For the coldest weekend to date this winter in New York, I had a mind for stew. With far too many types fighting for attention inside it. Beef bourguignon was foremost, then marsalas or perhaps a scallopini, then I thought of making a scallopini of pork medallions instead of veal (which I haven't eaten in ages, and most of my peers don't eat as a rule). And then it all kind of jumbled into one dish, finished with sour cream. So I called it a stroganoff. I don't know.

Instead of tomato paste, I threw in a chopped up ripe tomato for a fresher taste. The only thing I wish I hadn't done was to add the mushrooms before sticking a food processor into the blend of onions, carrot, celery and tomatoes to create a thicker texture. Once I put the mushrooms in, I realized I didn't want to grind those up, too. So it was a chunkier dish, but no matter–it hit the spot.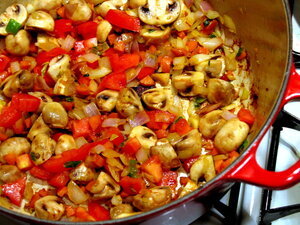 Red Wine Pork Stroganoff
(makes 3-4 servings)
1 lb pork chops or cutlets, pounded to 1/4″ thick and cut into 2 or 3″ pieces
1/2 cup dry red wine
3/4 – 1 cup chicken or vegetable broth
1 small/medium carrot, diced
1 medium onion, diced
1/2 celery rib, diced
1 shallot or scallion, chopped
1 Tb parsley, chopped
1 small ripe tomato, diced
2 cups button mushrooms, halved or quartered
1 garlic clove, minced
1/4 tsp dry thyme
1 bay leaf
salt and fresh ground pepper
1-2 Tb olive oil
1/2 cup sour cream (or greek yogurt)
1/3 cup frozen green peas
Season pork pieces with salt and pepper, and dredge them in a light coating of flour (optional). Heat a tablespoon or so of olive oil and brown both sides. Remove from pan and set aside. Heat remaining oil and saute all the vegetables for ten minutes or so. Add garlic, parsley, thyme and bay leaf. Pour in the wine and bring to a boil, stirring frequently. Add chicken broth, and return pork to pot. Simmer covered for 40 minutes, stirring occasionally. Adjust seasoning if necessary. Add peas and sour cream, and stir to blend thoroughly. Serve with rice, egg noodles, potatoes, bread, spaetzle, or what have you.
Cost Calculator
1 lb pork: $2.25
1/2 cup dry red wine (tail end of a bottle friend brought): maybe $1.00?
3/4 – 1 cup chicken or vegetable broth: $0.65
1 small/medium carrot (at $0.99/lb): $0.20
1 medium onion (at $2/bag): $0.33
1/2 celery rib (at $1.50/heart): $0.10
1 scallion (at $0.50/bunch): $0.13
1 Tb parsley (at $0.99/bunch): $0.20
1 small ripe tomato (at $1.29/lb): $0.30
2 cups button mushrooms (about ¾ of a $2 package): $1.50
garlic, thyme, bay leaf, olive oil, salt, pepper: $0.15
1/2 cup sour cream (at $1/small container): $0.35
1/3 cup frozen peas (at $1.19/package): $0.13
Total: $7.32
Health Factor







Six brownie points – rich and certain to fill you up. I served this with rice to avoid anything buttered. It's best to start with lean meat and drain the pan after browning if you see too much grease cook off. With plenty of vegetables and that life-prolonging antioxidant power of red wine, it's not a guilty pleasure, either.