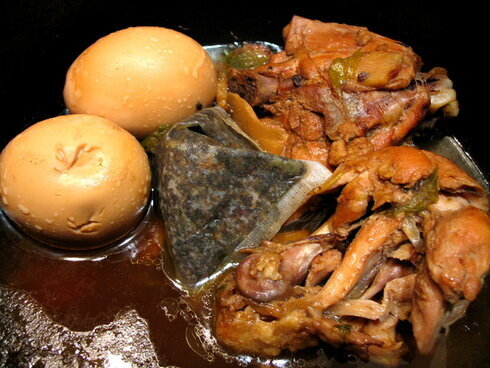 that's a spice satchel in the middle which should have been removed for the shot
It might seem a little redundant for a blog only about food that's cooked at home to post a recipe for something "homestyle." But I defend my usage here to emphasize the fact that you will never see or eat this dish in a respectable restaurant (ever). And yet most Chinese people will probably have eaten something very similar to this recipe at home more times than they can count. I also mentioned it on Eat Drink One Woman and received a request for the recipe, so here goes…

What you might see at restaurants and take-out shops for dirt-cheap prices are the stewed hard-boiled eggs (lu dan) pictured in the stew. They're the most wonderful things ever. The whites a turn varying degree of reddish brown and they become infused with flavor down to the yolk after braising in a broth like this for at least an hour. Chinese restaurants often mass produce these little bundles of joy and sell them as snacks but there's nothing quite like stewing your own eggs, and you might as well as long as you're making this dish anyway.
This dish (or family of dishes?) can be called hong shao in Chinese, which directly translates to "red cook" (red referring to the color of soy sauce). It's also very tasty when made with cubes of beef, pork, or most any meat or fish. Throw in some pressed tofu and let it simmer for a while and you'll have spiced tofu. My family has also cooked this with some seaweed knots, which are very nutritious. I'm not an expert on it, but I think you can add whatever ingredients and improvise with a basic hong shao recipe as much as you like. I would add another hour of cooking though, if I were making this instead with beef.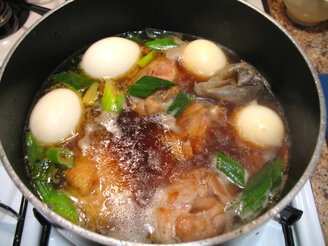 before the lid goes on

Soy Sauce Chicken Stew
(makes 3-4 servings)
About 2 lb of chicken pieces with bones–legs, wings, thighs
1 or 2 scallion shoots, coarsley chopped
2-3 Tb sliced ginger root
1/4 cup soy sauce (depending on how dark it is–I used Japanese Kikkomen which is on the darker side)
1/2 cup rice wine
1 cup or more water
1 Chinese five-spice satchel (or a spice sack containing star anise, nutmeg, cinnamon, cumin, and basil)
1 Tb oil
Some hard-boiled eggs, shelled (optional)
In a medium-large saucepan, heat the oil. Brown the chicken for a few minutes along with the sliced ginger. Add the scallion, soy sauce, rice wine, spice satchel, water, and shelled hard-boiled eggs if using. Make sure contents are decently covered, adding more water if necessary. Cover and simmer for an hour or longer. Serve over steamed rice with a generous helping of broth. Eggs can keep for a few days and can be eaten separately.
Cost Calculator
(for 3-4 servings)
2 lb chicken pieces: $2.00
1 Tb sliced ginger: $0.08
1/2 cup rice wine (at $2.00 a bottle): $0.25
1/4 cup soy sauce (at $2.50/bottle): $0.20
1 scallion (at $0.99/bunch): $0.20
4 eggs (at $2.00/dozen): $0.65
Total: $3.63
Health Factor






Four brownie points – this can be a bit of a salty dish, depending on how salty your palette is. It doesn't get many points for nutritional elements either, but like any good comfort food it serves its purpose of making you feel better when you're sick, or just homesick for your mom's cooking.