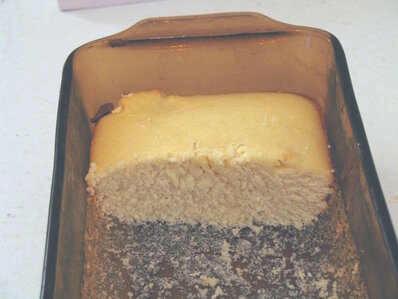 And while you're at it, slug back a few hundred calories. Just because. As someone who only cooks for one or two, I'm a natural user-upper, which means that something deep inside me feels very unfulfilled when I see half a tomato in the fridge begin to rot before it can be used. Or half a lemon–which, poor thing, doesn't last too long without its sliced-off other half. So when I opened my fridge the other night I looked at one half a lemon, dewy teardrops glistening inside its cage of a plastic bag, I thought, poor, poor lemon. I'll have to use it somehow.

Cooking in small quantities all the time lends itself easily to this kind of situation. Usually I'll try to skip the garnish of fresh chives when I can, or substitute what I have for what I don't, but you're always going to end up with things like half-lemons, or half-cans of tomato paste, etc. I thought the most logical thing to make with this lemon, since I had all the ingredients for it, was a cake. It turned out soft and moist, and didn't take much effort to make.
But after I filled myself up with the dessert, I covered the rest with plastic wrap and put it back into my fridge. For the next several days, each time I open the fridge I see this plastic-wrapped cake, and I realize that the problem I had at first with the lemon I only made bigger, not solved. And now a big, buttery sweet cake is staring at me half-eaten from the fridge, like a demon gremlin that spawned off the innocent Gizmo. Only I killed Gizmo to make it. Poor, poor lemon.
Alas, here is a recipe for harming yourself with some extra pounds of (delicious) lemon cake.
Add a Few Pounds Lemon Cake
(makes one loaf)
1 1/4 cup flour
5 Tb butter
2/3 cup sugar
1/2 cup milk
2 eggs
1 tsp baking powder
Juice and zest of half a lemon
Preheat oven to 350 degrees. Let butter soften and leave eggs and milk out so that they become less cold for at least 20 minutes. Whip butter with the sugar. Stir in eggs one at a time. Stir in milk. Gradually add flour and baking powder until fully blended. Stir in lemon juice and zest. Pour mixture into a greased loaf pan and bake for about 40 minutes, or until a toothpick inserted into the middle comes out clean. Let cool, and serve.
Cost Calculator
(for about 8-10 servings)
1 1/4 cups flour: $0.20
1/2 cup milk: $0.20
2 eggs (at $1.89/dozen): $0.30
5 Tb butter: $0.50
1 tsp baking powder: $0.05
Total: $1.25
Health Factor










Eight brownie points. It's cake, pure and simple.